Proteins shape analyses reveal novel forms and connections.
A new study has revealed new forms of proteins that have never been seen before along with unexpected connections. Last year, Google DeepMind predicted the structure of all known proteins from organisms using AlphaFold [1].
This time researchers mined a database full of the structures of every known protein predicted using AlphaFold neural networks [1]. This database consists of over 200 million protein structures. They have found completely novel shapes and connections between the structures.
A team co-led by Steinegger and computational biologist Pedro Beltrao, at ETH Zurich in Switzerland has developed a tool that can easily compare structures in the database based on their similarities and shapes. This tool is based on a structure alignment clustering algorithm- Foldseek cluster—that can cluster hundreds of millions of structures [2]. It can cluster millions of structures quickly.
This led to the identification of a novel link, as stated by  Steinegger, among different proteins. A protein that humans and other complex organisms use to trigger an immune attack and to detect viral DNA was found in a cluster with proteins from single-celled bacteria and archaea.
Another study done at the University of Basel in Switzerland and the SIB Swiss Institute of Bioinformatics reveals a novel protein shape [3]. The researchers called it a 'Beta-flower' as the structures contain hairpin turns which are found in a known protein shape called a Beta-barrel that resembles petals on a flower [4]. According to computational biologist Joana Pereira, proteins that contain Beta-flowers are distantly related to one another, but their function is unclear.
---
References
Jumper, J., Evans, R., Pritzel, A., Green, T., Figurnov, M., Tunyasuvunakool, K., … & Hassabis, D. (2020). AlphaFold 2. Fourteenth Critical Assessment of Techniques for Protein Structure Prediction; DeepMind: London, UK.
Barrio-Hernandez, I., Yeo, J., Jänes, J. et al., (2023). Clustering-predicted structures at the scale of the known protein universe. Nature.
Durairaj, J., Waterhouse, A.M., Mets, T. et al. (2023). Uncovering new families and folds in the natural protein universe. Nature.
https://www.nature.com/articles/d41586-023-02892-z#ref-CR1

Inviting Nominations for 'Top 5 Bioinformaticians in India 2020'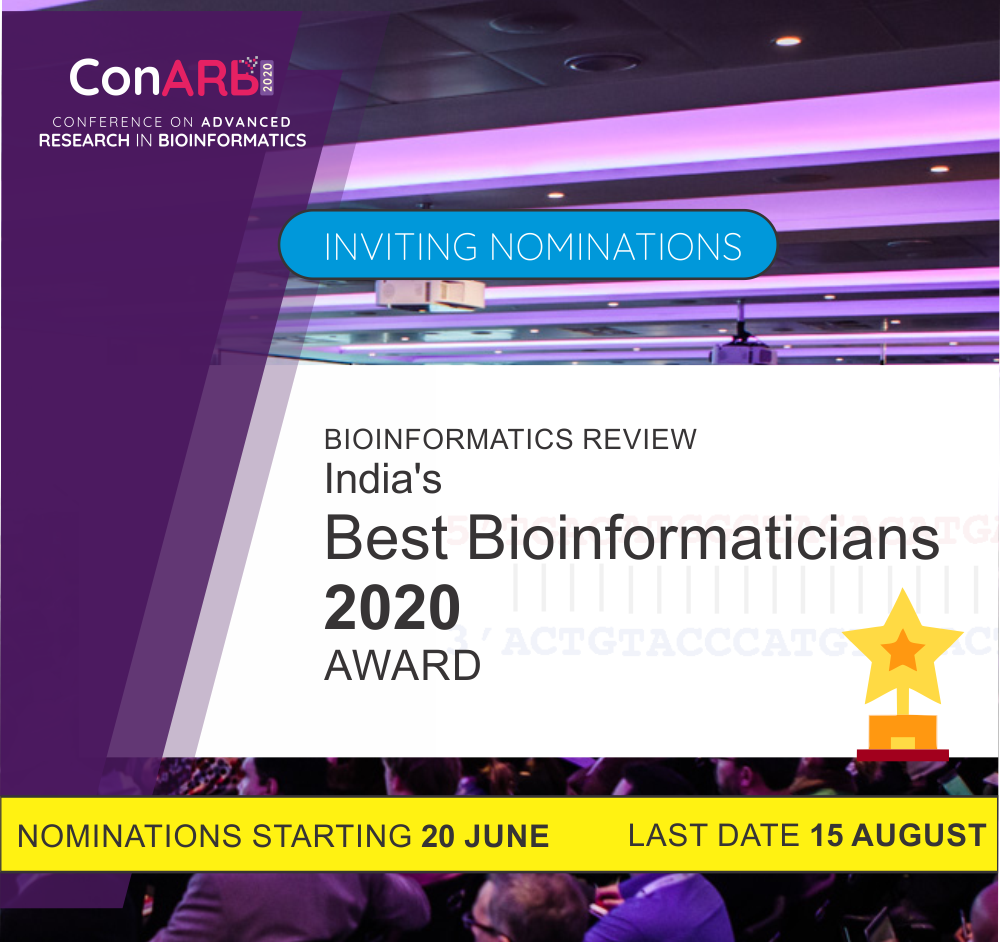 Bioinformatics Review compiles a list of top bioinformaticians every two years. We are inviting nominations for the second edition of this award after the 2018 List. We invite you to contribute to this endeavor by nominating your colleague or friends if you think they can make it to our list.
Nominations start from 20th June 2020 till 15th August 2020. All the nominees will be informed via email on 5th September 2020. We use a well-established ranking method called ScipRank. Our data collection is open-source. ScipRank methodology is publicly available for scrutiny.
Also, we are completing 5th year of success in Bioinformatics Review this year. On this occasion, we are organizing an International Conference on Advanced Research in Bioinformatics 2020. The award will be declared at the conclusion of ConARB 2020 –  3 & 4th Oct 2020).
We invite you to contribute to this endeavor by nominating your colleague or friends. You can also submit your papers, which if accepted, can be presented at the conference.
We have set up a dedicated portal for ConARB 2020 accessible here https://conarb.bioinformaticsreview.com.
To attend or to submit your abstract or to nominate someone, kindly visit this website. Accepted papers will be published in a special issue of Bioinformatics Review.
We are looking forward to your continued support, contributions, nominations, and suggestions for the conference as well as your active participation.