Bioinformatics Review – The road ahead
Bioinformatics, being one of the best field in terms of future prospect, lacks one thing – a news source. For there are a lot of journals publishing a large number of quality research on a variety of topics such as genome analysis, algorithms, sequence analysis etc., they merely get any notice in the popular press.
One reason behind this rather disturbing trend, is that there are very few people who can successfully read a research paper and make a news out of it. Plus, the bioinformatics community has not been yet introduced to research reporting. These factors are common to every relatively new (and rising) discipline such as bioinformatics.
Although there are a number of science reporting websites and portals, very few accept entries from their audience, which is expected to have expertise in some or the other field.
Bioinformatics Review has been conceptualized to address all these concerns. We will provide an insight into the bioinformatics – as an industry and as a research discipline. We will post new developments in bioinformatics, latest research.
We will also accept entries from our audience and if possible, we will also award them. To create an ecosystem of bioinformatics research reporting, we intend to engage people involved in bioinformatics at all levels viz. students, professors, instructors as well as related industries.
We will also provide a free job listing service for anyone who can benefit out of it.
If you are interested in collaborating with us, advertising or writing for us, please feel free to get in touch. Do not forget to subscribe to the newsletter to keep updated.
PS – Please note that Bioinformatics is NOT a research journal. At most, it is a bioinformatics news reporting and knowledge source.

Ph.D. students to be declared "bandhua mazdoor" (bonded labour)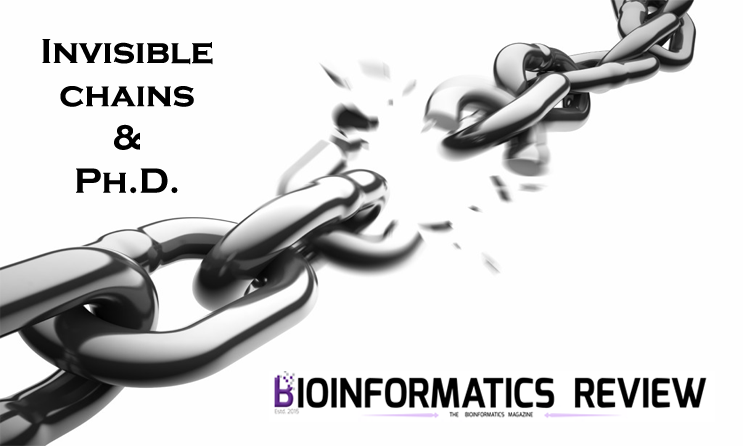 A Ph.D. degree is considered difficult to get, you have to do a lot of hard work and give up certain things such as social life, friends, health, fun time, and many others. At first, it is quite difficult to get admission in fine universities for a Ph.D. and then after getting one, it is more difficult to survive. Although the Ph.D. degree is awarded for research when you contribute something novel in your field. But the system has made it quite difficult by implicating various criteria such as the number of papers to be at least published and authorship. (more…)