Explore Tuberculosis: A Systems Biology Approach
Systems biology is not sufficient to full fill the requirement of molecular understanding of any organism at any level. It seeks to contribute multiple approaches and fields to resolve a particular issue arisen from ongoing work. In this article you will find a combinatorial approach of systems biology i.e. molecular, cellular and network biology to understand how tuberculosis is developed and how pathogen succeeds in fighting with host immune systems. A well developed mathematical model, on PhoP-PhoR two component system, is also presented and explained to demonstrate the mode of molecular regulation by pathogen.
The bacterial two component system (TCS) is a signal transduction system that senses environmental stimuli and responses accordingly. This system consists of two regulating proteins one of which functions as histidine kinase (HK) and other functions as response regulator (RR) in the course of signal cascade mechanism. Mycobacterium tuberculosis have eleven two component systems controlling expression of those genes that are critically involved in the virulence, pathogenicity and survival. Studies have demonstrated that PhoPR-TCS is one of the eleven TCSs peculiarly involved in the virulent activity of the pathogen. PhoPR-TCS is a positive regulator of many genes which encodes gene for the biosynthesis of lipids like sulphatides(SL), diacyltrehalose (DAT) and polycyltrehalose (PAT). These lipid components contribute to the virulency of M. tuberculosis. Studies have corroborated that pks2 and msl3 are responsible for the biosynthesis of  SL, DAT and PAT respectively. The expression of these lipid coding genes are regulated by PhoP in association with the autokinase activity of PhoR. In case of Mycobacterial PhoPR TCS, Mg2+ ions have not been substatilally proved to be stimulating factor for PhoR. The simulation of the model was carried out through MATLAB using RK-4 (Runga Kutta fourth order differential equation) method. Resultantly, behavior of TCS was found to be robust at all concentration of Mg2+ ions. The finding can be implicated at the time of development of drug against tuberculosis as to which gene/protein has the high sensitivity towards its stimuli.

Fig: General presentation of model, depicting feedback mechanism of system
The regulation of TCS is affected by Mg2+ ions to all possible extent which was shown by fluctuations in the level of PhoP and PhoR proteins. The ions have both positive and negative effect over TCS. The result showed that important genes are activated even after ions are switched off from surrounding medium. So, targeting of ions influx and efflux would be of no use in terms of development of drug aginst the pathogen. With some other aspect it can be further tested for more simulations with varying concentration of ions. Since, TCS regulates those genes which are directly involved in pathogenecity and survival of Mycobaterium tuberculosis, understanding the nature and behaiour of individual protein will provide an insight into finding of novel drug target against tuberculosis. The simulation in this work represented the mechanism of gene regulation and its sensitivity twords stimulus and provided the understading about how to deal with when targetting a molecule/protein for any other two component system of the pathogen.
---
Reference source: Fozail Ahmad & Ravins Dohare*, Assessing Effect of Mg ion on PhoP-PhoR tow component systems of Mycobacterium tuberculosis through Development of Mathematical Model, Int. Journal of Science and Research, (4) 7, 2285-2289, Paper ID: SUB 156569

Cancer: From the Eyes of Mathematical/Systems Biology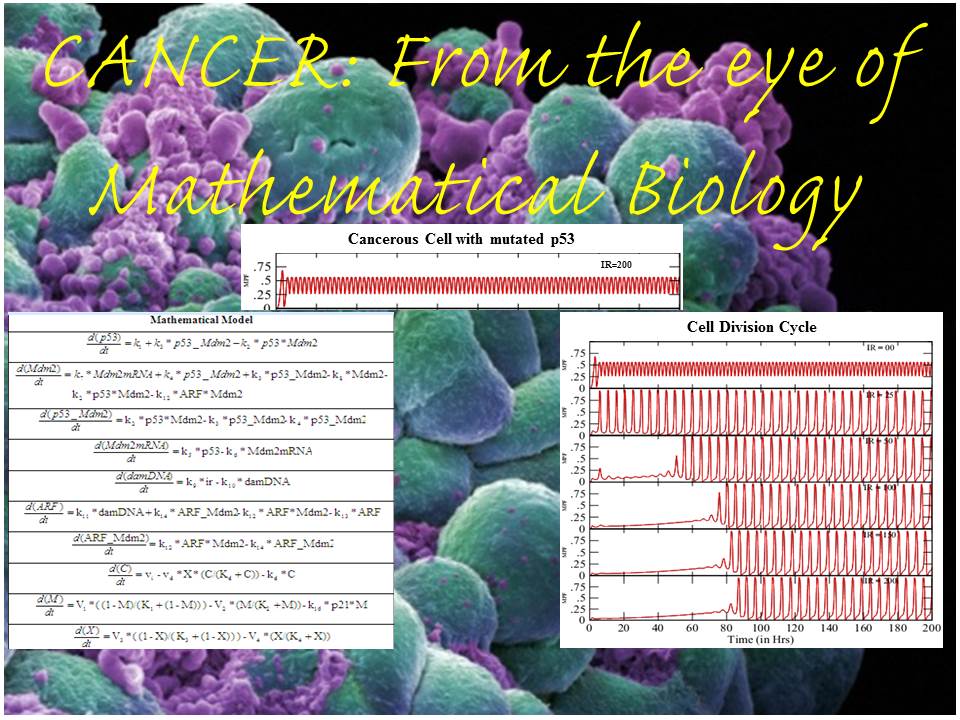 The month of November has just arrived with its generic glimpse of winter. We welcome this month with an evergreen and hot topic of cancer research. This time we intend to introduce you to an old research topic with a new vision…..
Cancer being an ailment with no remedy of full confidence has been pursued as a career by a lot of researchers. A cell biologist says it is an uncontrolled proliferation (increase in number by division and growth) of cells, molecular biologists call it a mutant variety of some biomolecules forcing a cell to commit such an uncontrolled cell division cycle. But, how does a Systems Biologist see such kind of a problem? Let us try to pursue it in a different way.
Proteins if are not assigned some name based on their function or structure, scientists mark them according to their molecular weight, e.g. p53, p200, p19 etc. Scientists have proven an abnormally high expression of p53 protein in Cancerous cells/tissues. p53 protein is actually the reason behind those other proteins which regulate the cell cycle and makes it to divide in to two as a normal scenario, p53 also helps in the manufacture of its inhibitor named Mdm2 protein. In any case of mutation in p53, that leads the failure of abnormality recognition by p53, doesn't lead to increase in p53 and consequently Mdm2, p21 and other p53 regulated proteins. And thus, the division of abnormal cells continues indefinitely and causes Cancer.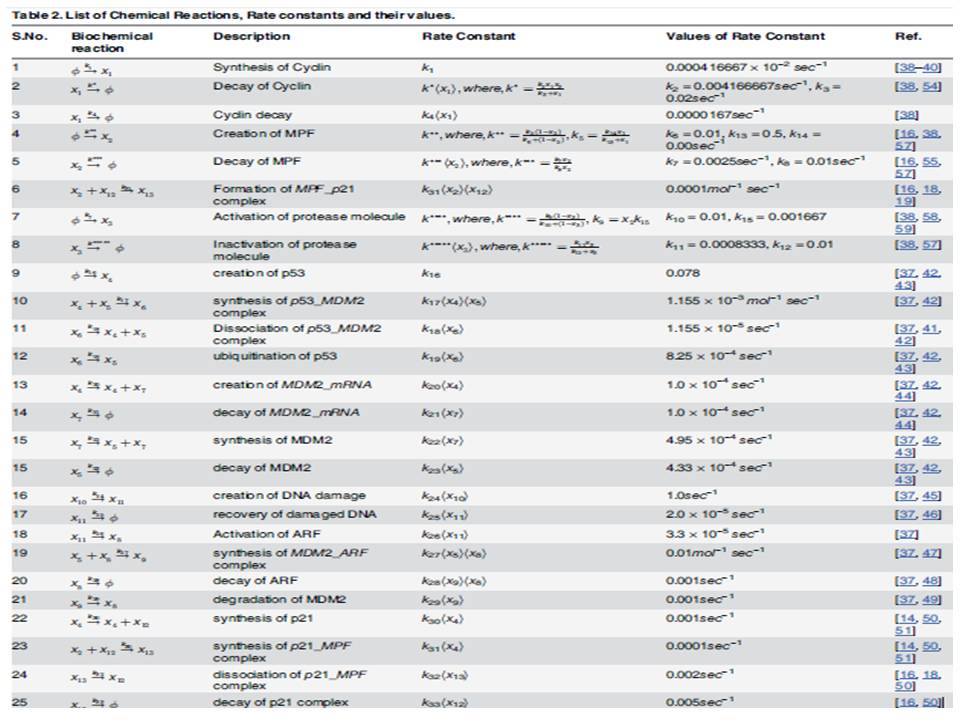 From a Mathematical Biology perspective, systems biologists form some ordinary differential equations that look like a mathematical formula. These mathematical formulae are actually nothing else than the representative of chemical reactions and their combinations occurring inside a cell. As in our previous blogs (by Fozail Ahmad), we have mentioned about how to combine the chemical reactions in a shape of Ordinary Differential Equations (ODEs) and about how we follow Zero-Order chemical kinetics (reaction rate doesn't depend on any participating chemical), First-Order chemical kinetics (reaction rate depends on only one participating chemical) and Second-Order chemical kinetics (reaction rate depends on two or more participating chemicals) to form the equations. In addition to that, I would like to mention that there are some reactions which occur with the help of some biomolecular machineries. These machines (enzymes) just help the reactions to occur, but do not take part in it themselves and thus affect the reaction in a different form of kinetics as described by the combined work of German Scientist of Biochemistry Leonor Michaelis and Canadian Scientist of Physics Maud Menten in 1913.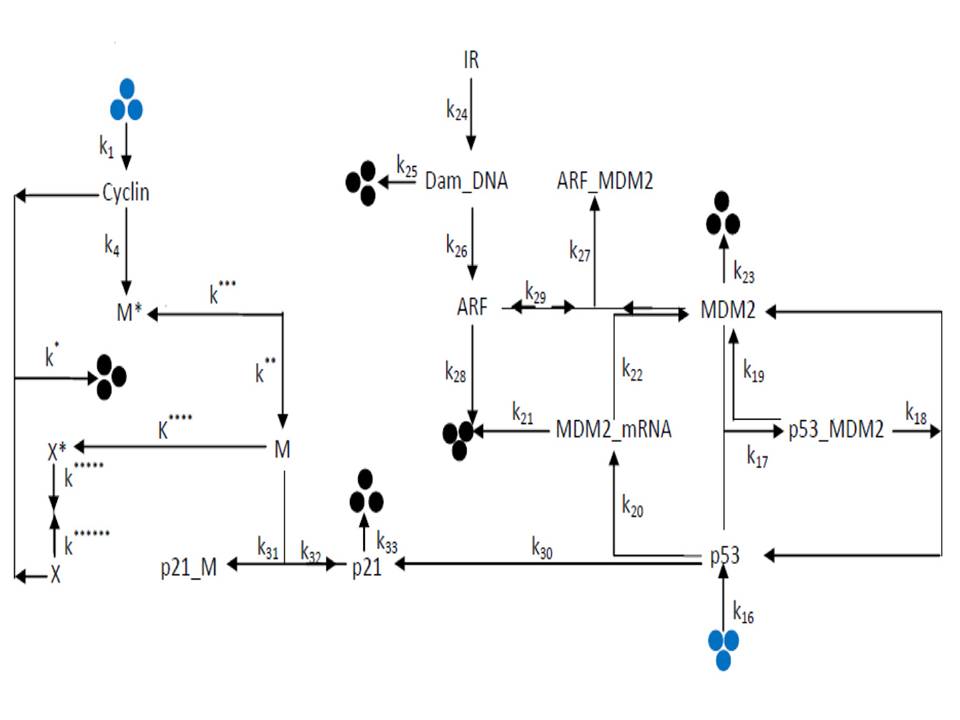 So, in a normal cell, when p53 senses the danger and signals the Cell by increasing p21 to combine with PCNA (Proliferating Cell Nuclear Antigen – An enzyme that helps in cell division) it stops the cell division. This type of cell cycle division has been shown in one of the diagrams mentioned below, while for the mutated case of p53 where it can not sense the cellular damage and thus divides normally is also shown in one of the images above.
We have also mentioned a combined picture, which shows a referral of how different stages of Mathematical Biology looks like. These figures are in special contrast to Cancer cells and normal cells.
Reference: Alam MJ, Kumar S, Singh V, Singh RKB (2015) Bifurcation in Cell Cycle Dynamics Regulated by p53. PLoS ONE 10(6): e0129620. doi:10.1371/journal.pone.0129620
http://journals.plos.org/plosone/article?id=10.1371/journal.pone.0129620