Modeller- Uses & Applications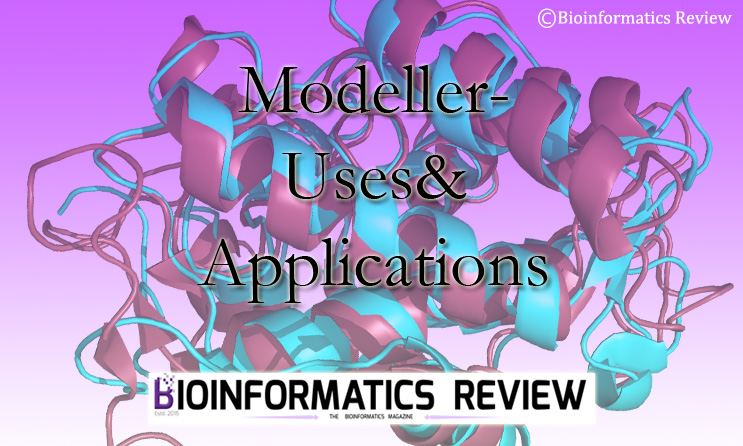 Modeller is a standalone tool for homology modeling or comparative modeling of proteins 3D structures [1-4]. In this article, we are discussing its different uses and applications in bioinformatics.
Modeller predicts protein 3D structure by satisfying the spatial restraints. It is capable of performing some additional tasks as well. Some of the main uses and applications of Modeller are mentioned below:
Predicts protein 3D structure via homology or comparative modeling.
It automatically generates a protein structure containing all non-Hydrogen atoms by the satisfaction of spatial restraints.
It helps in the comparison of protein structures by aligning multiple structures together.
Modeller models loops in protein structure de novo.
It optimizes various models with respect to a flexibly defined objective function.
It can also search in sequence databases.
Performs clustering.
It can be used for different types of protein structure modeling including basic, advanced, iterative, difficult, and modeling with cryo-EM data.
---
References
B. Webb, A. Sali. Comparative Protein Structure Modeling Using Modeller. Current Protocols in Bioinformatics 54, John Wiley & Sons, Inc., 5.6.1-5.6.37, 2016.
M.A. Marti-Renom, A. Stuart, A. Fiser, R. Sánchez, F. Melo, A. Sali. Comparative protein structure modeling of genes and genomes. Annu. Rev. Biophys. Biomol. Struct. 29, 291-325, 2000.
A. Sali & T.L. Blundell. Comparative protein modelling by satisfaction of spatial restraints. J. Mol. Biol. 234, 779-815, 1993.
A. Fiser, R.K. Do, & A. Sali. Modeling of loops in protein structures, Protein Science 9. 1753-1773, 2000.
---
Further Reading

How to execute matlab from terminal in Ubuntu (Linux)?
While trying to install Matlab [1], it generally gives an error stating "matlab: command not found.". Here, we provide a solution to this error.
How to install Kpax on Ubuntu (Linux)?
Kpax is a bioinformatics program to search and align protein structures [1]. It is currently available for Linux platforms only. In this article, we are going to install the latest version of Kpax (5.1.3) on Ubuntu (Linux). (more…)
How to run do_dssp command (mkdssp) in Gromacs 2022?
In the latest version of GROMACS (2022) [1], there are some issues regarding the gmx do_dssp command. Apparently, this command either does not run displaying a fatal error, or if it runs then it does not read any frame from MD simulation files. In this article, we are going to run the same command for GROMACS 2022. (more…)