MOCCA- A New Suite to Model cis- regulatory Elements for Motif Occurrence Combinatorics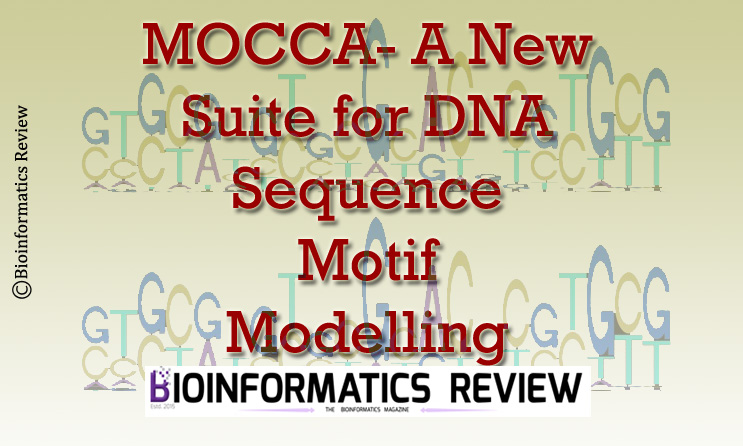 cis-regulatory elements are DNA sequence segments that regulate gene expression. cis-regulatory elements consist of some regions such as promoters, enhancers, and so on. These regions consist of specific sequence motifs.
A newly expanded suite is developed to model the motif occurrence combinatorics in DNA sequences [1]. This suite is known as MOCCA (Motif Occurrence Combinatorics Algorithms). It is based on support vector machines (SVM) and random forest (RF) models, SVM-MOCCA and RF-MOCCA respectively.
Users enter motifs, training sequences, and model specifications. The sequences are provided in FATSA format or can be generated by either an i.i.d. model or an N-th order Markov chain. Users can enter IUPAC nucleotide code motifs and Position Weight Matrix (PWM) motifs.
MOCCA implements three types of models:
CPREdictor
Dummy PREdictor
SVM-MOCCA
including a new hierarchical model RF-MOCCA.
MOCCA is implemented in C++ with a minimal number of dependencies to ease the process of installation. It can be installed on Unix-based systems.
MOCCA is freely available to download from Github.
For more details, read here.
---
References
Bredesen, B.A., Rehmsmeier, M. (2021). MOCCA: a flexible suite for modelling DNA sequence motif occurrence combinatorics. BMC Bioinformatics 22, 234.

Bioinformatics Challenges and Advances in RNA interference
RNA interference is a post-transcriptional gene regulatory mechanism to down-regulate the gene expression either by mRNA degradation or by mRNA translation inhibition. The mechanism involves a small partially complementary RNA against the target gene. To perform the action, it also requires a class of dedicated proteins to process these primary RNAs into mature microRNAs. The guide sequence determines the specificity of the miRNA. Therefore, the knowledge of the guide sequence is crucial for predicting its targets and also exploiting the sequence to create a new regulatory circuit. In this short review, we will briefly discuss the role and challenges in miRNA research for unveiling the target prediction by bioinformatics and to foster our understanding and applications of RNA interference. (more…)