India ranks 4th among the Top 20 Bioinformatics Database Contributors in the world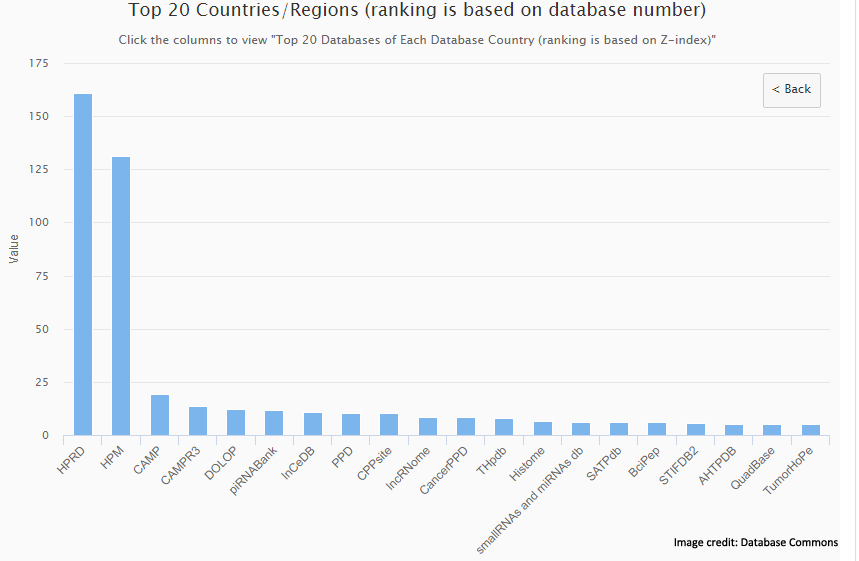 Database Commons (a catalog of biological databases) [1] has revealed new statistics based on database rankings showing the top 20 countries/regions with the highest number of databases managed by them (Fig. 1). India holds the fourth rank among these top 20 countries with 318 total number of databases.
Fig. 1 Top 20 countries/regions showing database numbers.
This ranking is based on Z-index. The United States holds the first position with 1,196 total databases, followed by China with 547 number of databases, which is followed by the UK (357 databases) and India (318 databases). Exome Aggregation Consortium (ExAC) from the USA has been ranked first worldwide with a Z-index of 706. The Human Protein Reference Database (HPRD) [2,3] scored the highest Z-index  (160.75) among the other top 20 databases in India as shown in the table below.
[table id=4 /]
*The ranking is based on the Z-index calculated by the Database Commons [1].
For further reading, click here.
References
http://bigd.big.ac.cn/databasecommons/stat#
Peri, S. et al. (2003). Development of Human Protein Reference Database as an initial platform for approaching systems biology in humans. Genome Research. 13, 2363-2371.
Prasad, T. S. K. et al. (2009). Human Protein Reference Database – 2009 Update. Nucleic Acids Research. 37, D767-72.

Inviting Nominations for 'Top 5 Bioinformaticians in India 2020'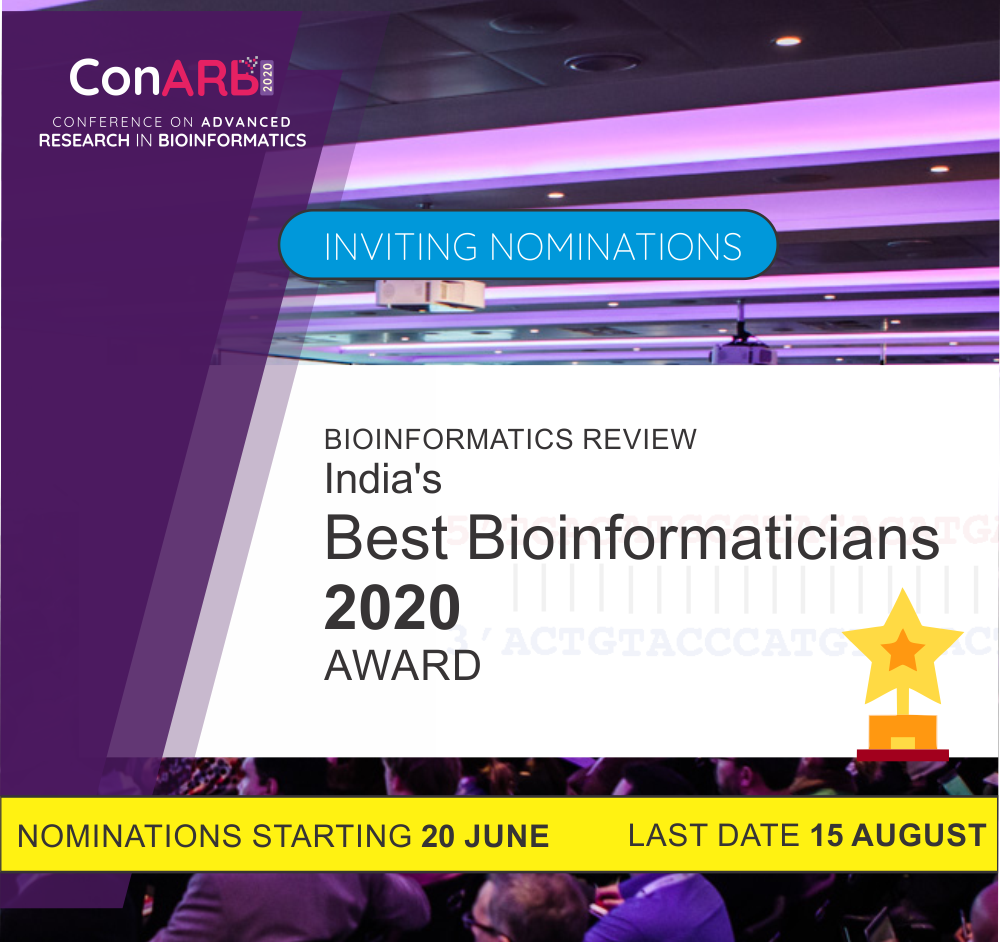 Bioinformatics Review compiles a list of top bioinformaticians every two years. We are inviting nominations for the second edition of this award after the 2018 List. We invite you to contribute to this endeavor by nominating your colleague or friends if you think they can make it to our list.
Nominations start from 20th June 2020 till 15th August 2020. All the nominees will be informed via email on 5th September 2020. We use a well-established ranking method called ScipRank. Our data collection is open-source. ScipRank methodology is publicly available for scrutiny.
Also, we are completing 5th year of success in Bioinformatics Review this year. On this occasion, we are organizing an International Conference on Advanced Research in Bioinformatics 2020. The award will be declared at the conclusion of ConARB 2020 –  3 & 4th Oct 2020).
We invite you to contribute to this endeavor by nominating your colleague or friends. You can also submit your papers, which if accepted, can be presented at the conference.
We have set up a dedicated portal for ConARB 2020 accessible here https://conarb.bioinformaticsreview.com.
To attend or to submit your abstract or to nominate someone, kindly visit this website. Accepted papers will be published in a special issue of Bioinformatics Review.
We are looking forward to your continued support, contributions, nominations, and suggestions for the conference as well as your active participation.