India ranks 4th among the Top 20 Bioinformatics Database Contributors in the world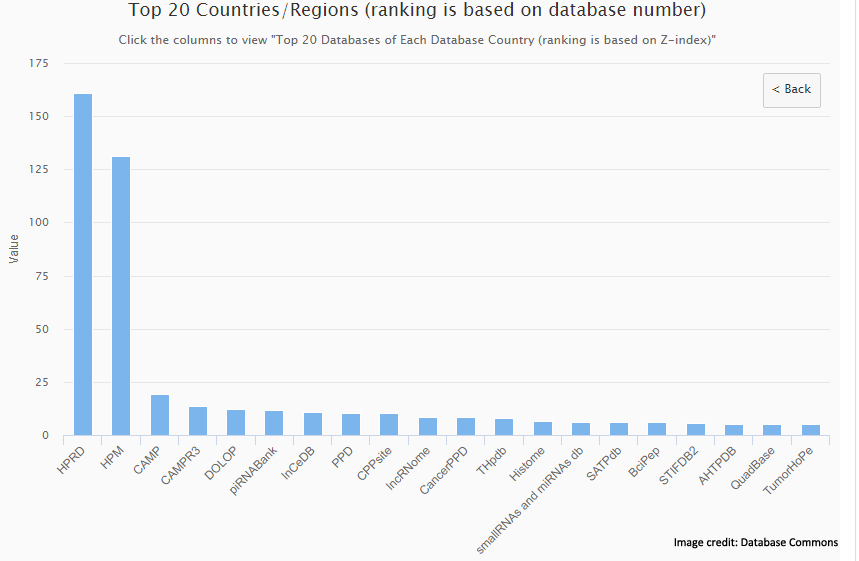 Database Commons (a catalog of biological databases) [1] has revealed new statistics based on database rankings showing the top 20 countries/regions with the highest number of databases managed by them (Fig. 1). India holds the fourth rank among these top 20 countries with 318 total number of databases.
Fig. 1 Top 20 countries/regions showing database numbers.
This ranking is based on Z-index. The United States holds the first position with 1,196 total databases, followed by China with 547 number of databases, which is followed by the UK (357 databases) and India (318 databases). Exome Aggregation Consortium (ExAC) from the USA has been ranked first worldwide with a Z-index of 706. The Human Protein Reference Database (HPRD) [2,3] scored the highest Z-index  (160.75) among the other top 20 databases in India as shown in the table below.
[table id=4 /]
*The ranking is based on the Z-index calculated by the Database Commons [1].
For further reading, click here.
References
http://bigd.big.ac.cn/databasecommons/stat#
Peri, S. et al. (2003). Development of Human Protein Reference Database as an initial platform for approaching systems biology in humans. Genome Research. 13, 2363-2371.
Prasad, T. S. K. et al. (2009). Human Protein Reference Database – 2009 Update. Nucleic Acids Research. 37, D767-72.

MANE is a collaborative project between NCBI and EMBL-EBI. It stands for Matched Annotation from NCBI and EMBL-EBI [1]. The datasets provided by NCBI and EMBL-EBI on the human genome are not identical across every gene.
This Month in Bioinformatics- Research Updates of March 2022
Here are the latest research developments in the field of bioinformatics made in the month of March 2022. (more…)
This month in Bioinformatics- Research Updates of November 2021
We summarize the latest research published this month in the field of bioinformatics. (more…)